This is a install guide for Pixelmon using the standard Minecraft launcher. If you are not a particularly tech savvy person You can also install Pixelmon via the official technic pack
The download links on this page will always be up-to-date with the versions that are running on the server!
Pre requirements
Make sure you have the java edition of Minecraft installed and have run Minecraft version 1.12.2 at least once.
---
Install Minecraft Forge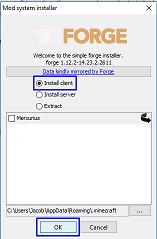 Run the installer. Select install client and press okay.

Once it completes hit okay.

---
Download Pixelmon
Download the Pixelmon mod from the reforged.gg website. The file should be named Pixelmon

Open the Minecraft launcher and click Launch Options then Add new.

Set the version of this new launch profile to release 1.12.2-forge1.12.2-14.23.5.2768.

Click the Go to folder arrow to open the game files folder. Create a new folder named mods and copy the Pixelmon download from step one into it.

Click save on the launcher profile and then you're all set!